THIS YEAR 53 STUDENT-ATHLETES RECEIVED A
2023 CHRISTOPHER POTVIN SCHOLARSHIP!!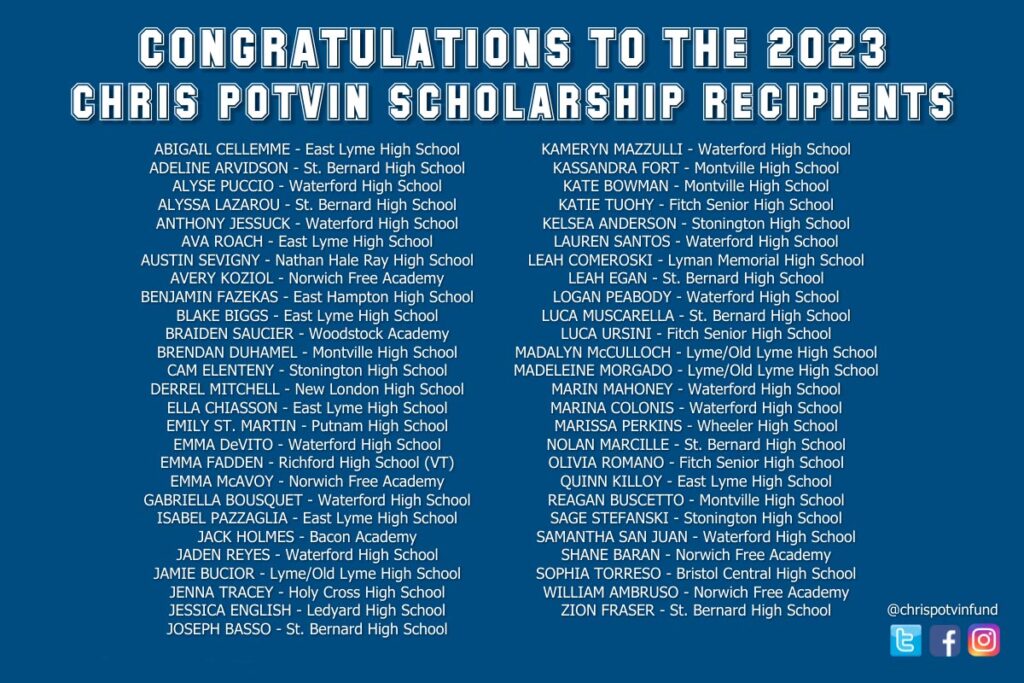 SCROLL DOWN TO SEE PAST YEAR'S RECIPIENTS!
---
If you are…
a good student (B average or above)
a varsity athlete
respected and admired by faculty, coaches, peers, and the community
…then you should apply for this scholarship
I like to think our son, Christopher, was all the above. That's why in addition to athletic and academic performance, good character qualities will be paramount in our awarding a scholarship. Learn more about Christopher and the history of our scholarship fund by visiting our Remembering Chris page.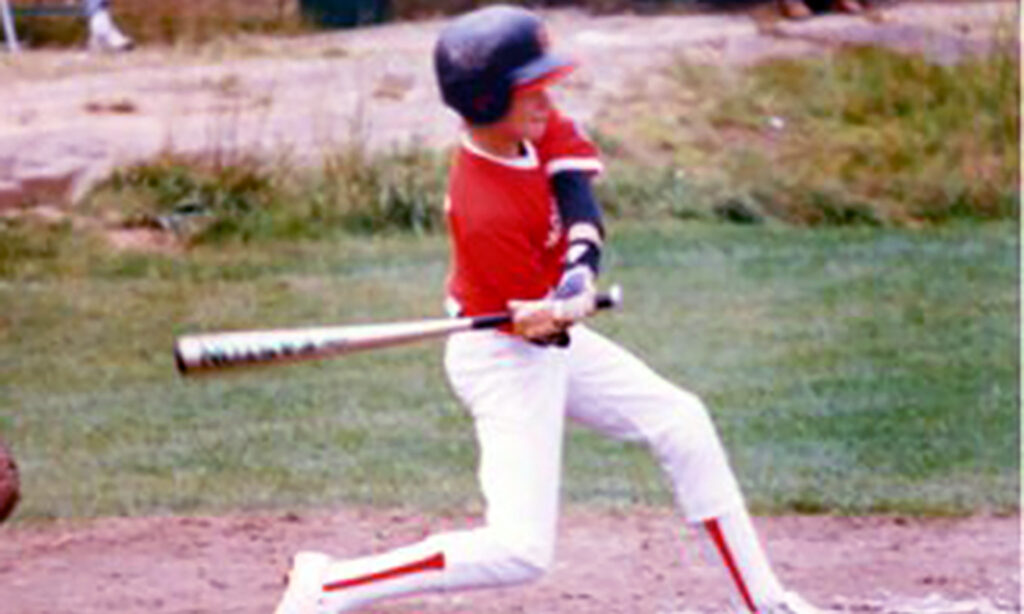 ---
YEAR-BY-YEAR SCHOLARSHIP RECIPIENTS
2022 CHRISTOPHER POTVIN
SCHOLARSHIP RECIPIENTS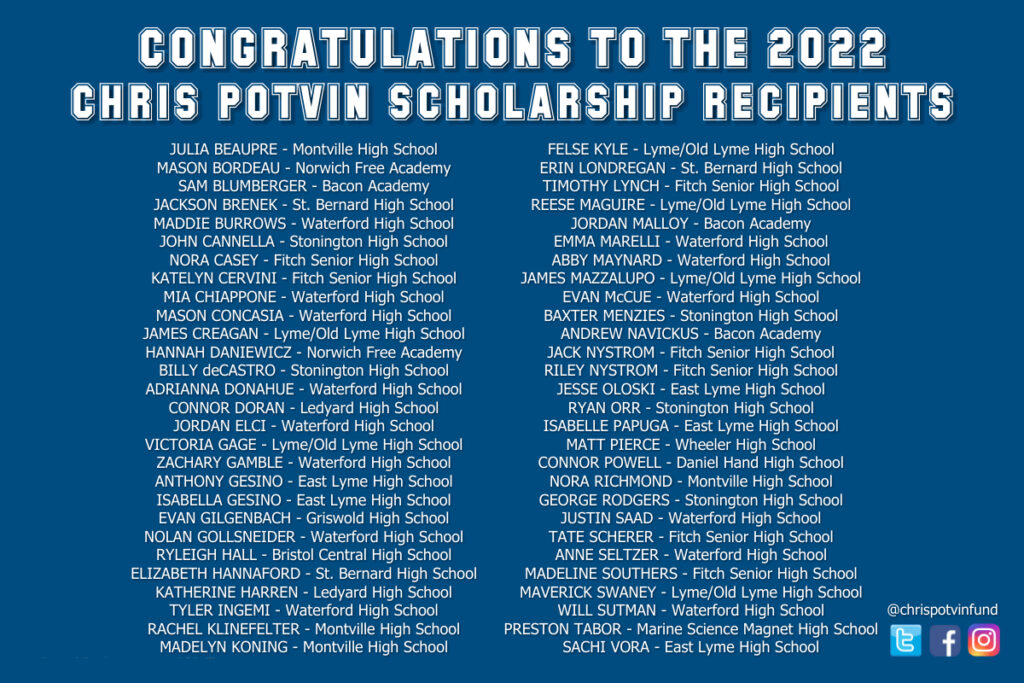 ---
2021 CHRISTOPHER POTVIN
SCHOLARSHIP RECIPIENTS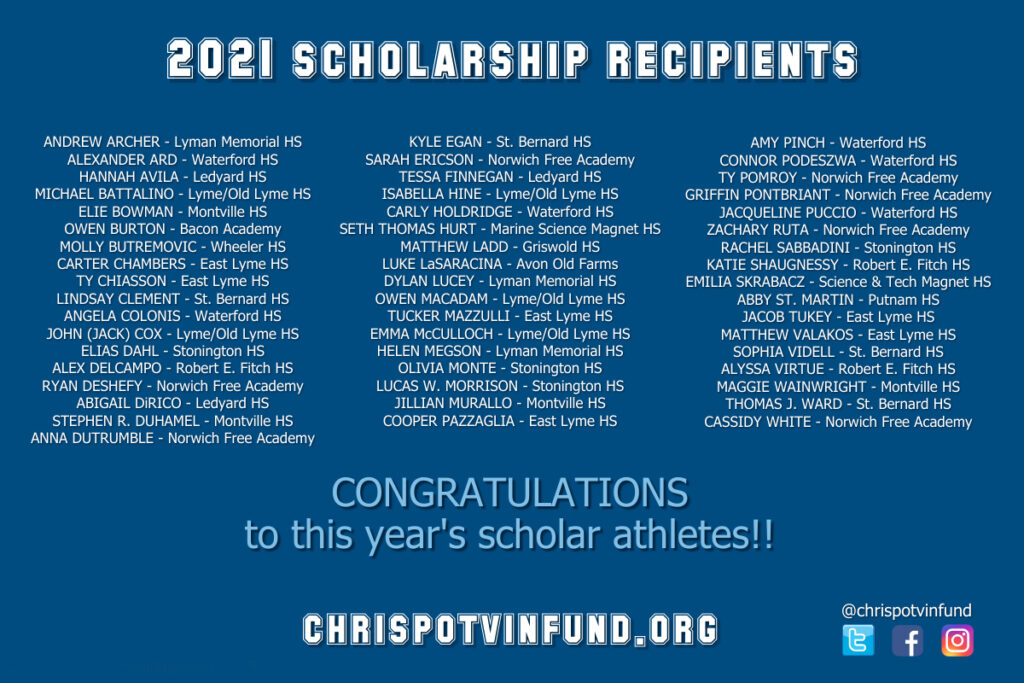 ---
2020 CHRISTOPHER POTVIN
SCHOLARSHIP RECIPIENTS

---
2019 CHRISTOPHER POTVIN
SCHOLARSHIP RECIPIENTS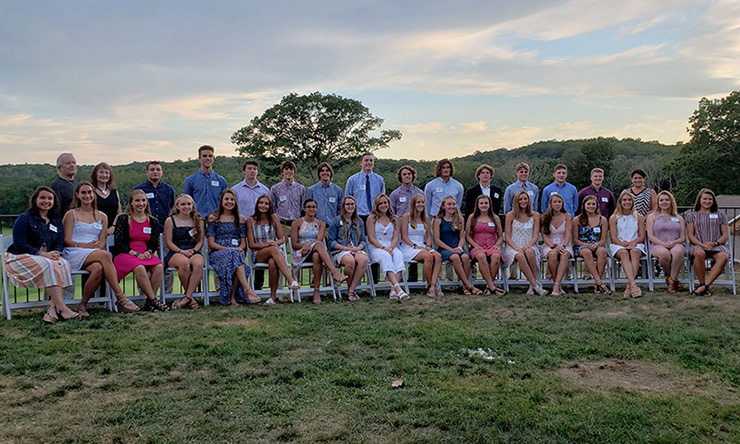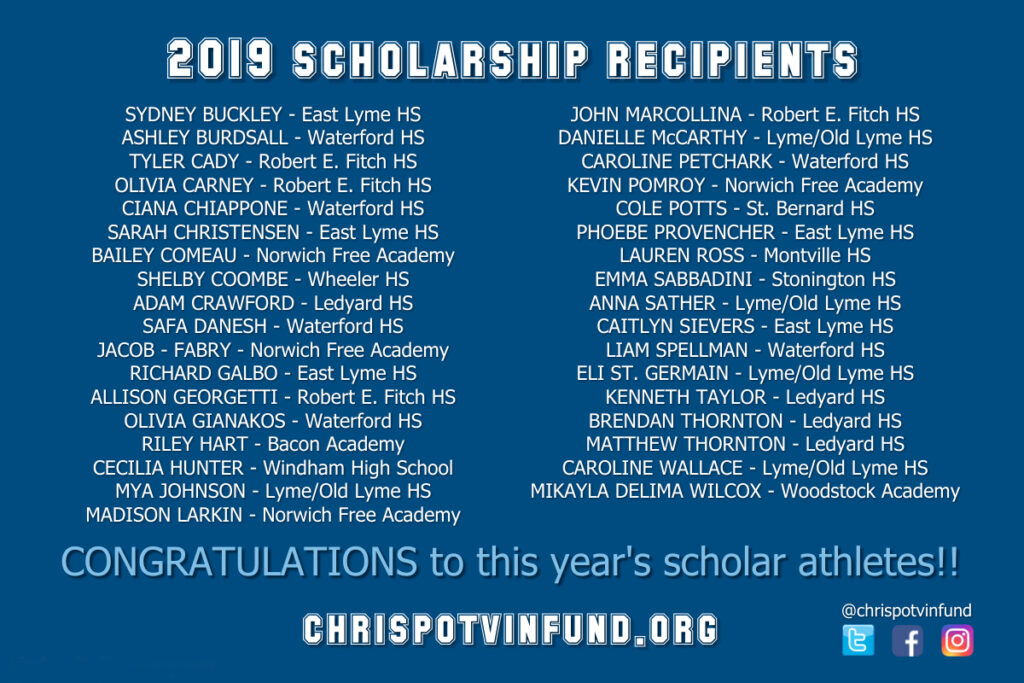 ---
2018 CHRISTOPHER POTVIN
SCHOLARSHIP RECIPIENTS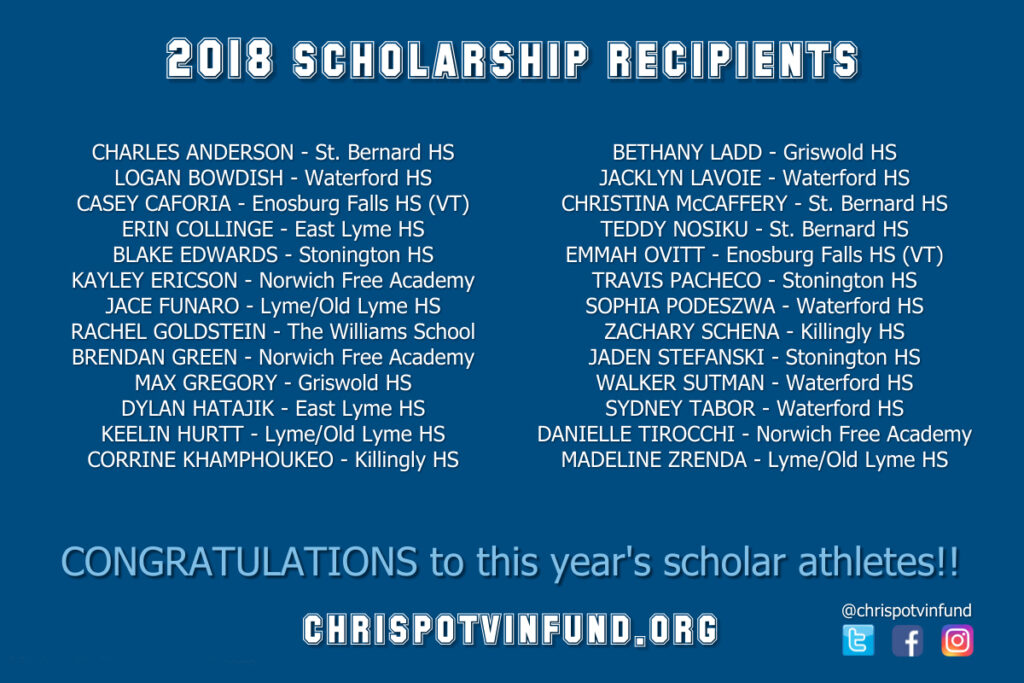 ---
2017 CHRISTOPHER POTVIN
SCHOLARSHIP RECIPIENTS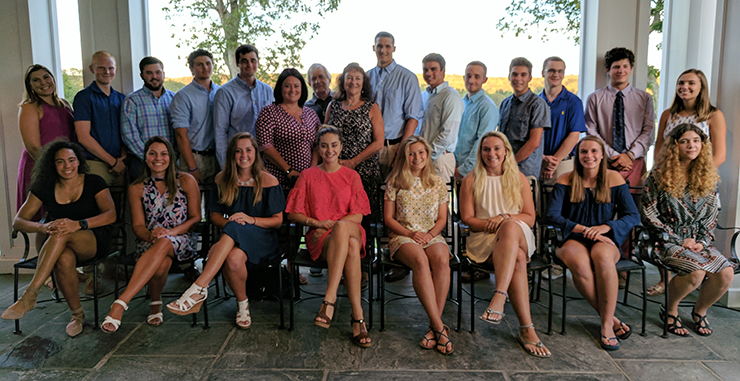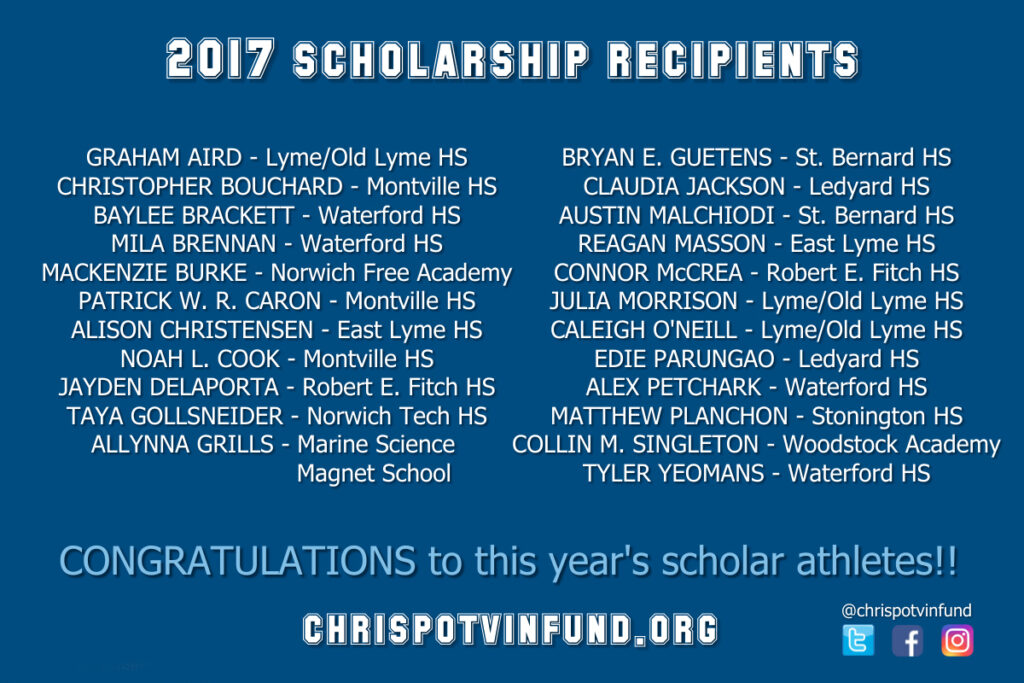 ---
2016 CHRISTOPHER POTVIN
SCHOLARSHIP RECIPIENTS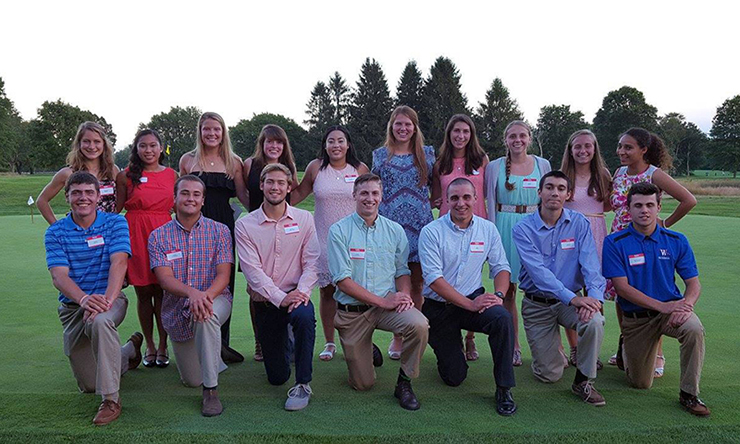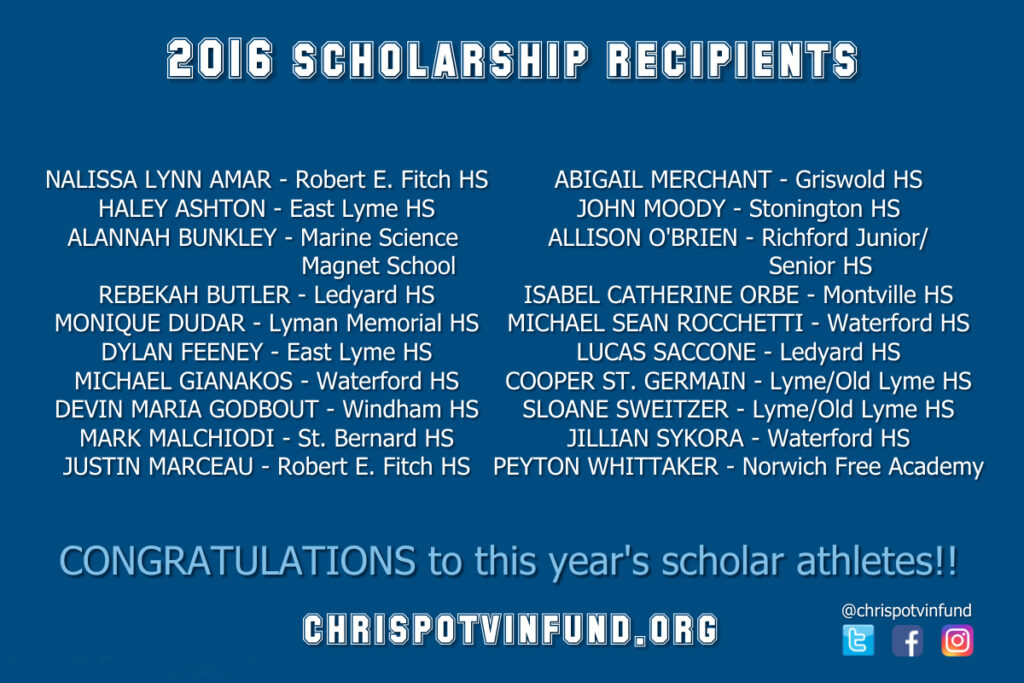 2015 CHRISTOPHER POTVIN
SCHOLARSHIP RECIPIENTS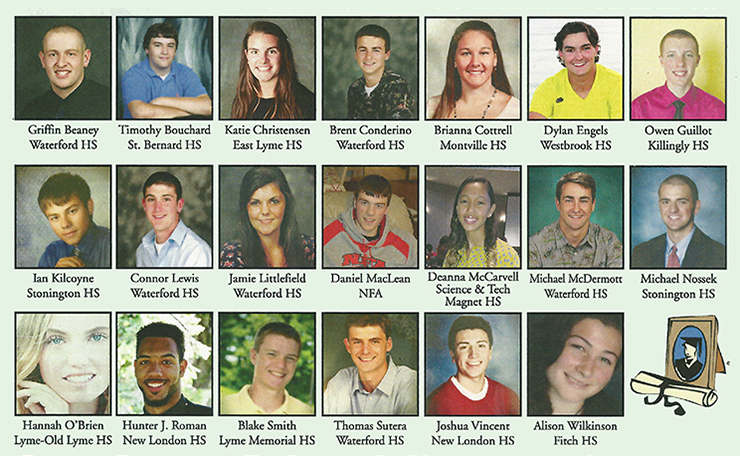 2014 CHRISTOPHER POTVIN
SCHOLARSHIP RECIPIENTS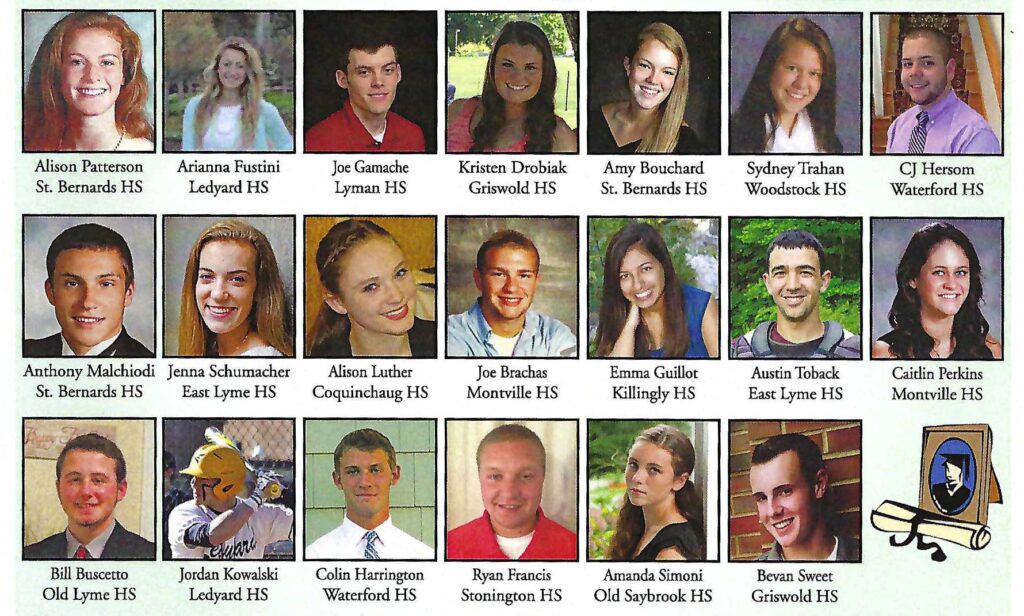 2013 CHRISTOPHER POTVIN
SCHOLARSHIP RECIPIENTS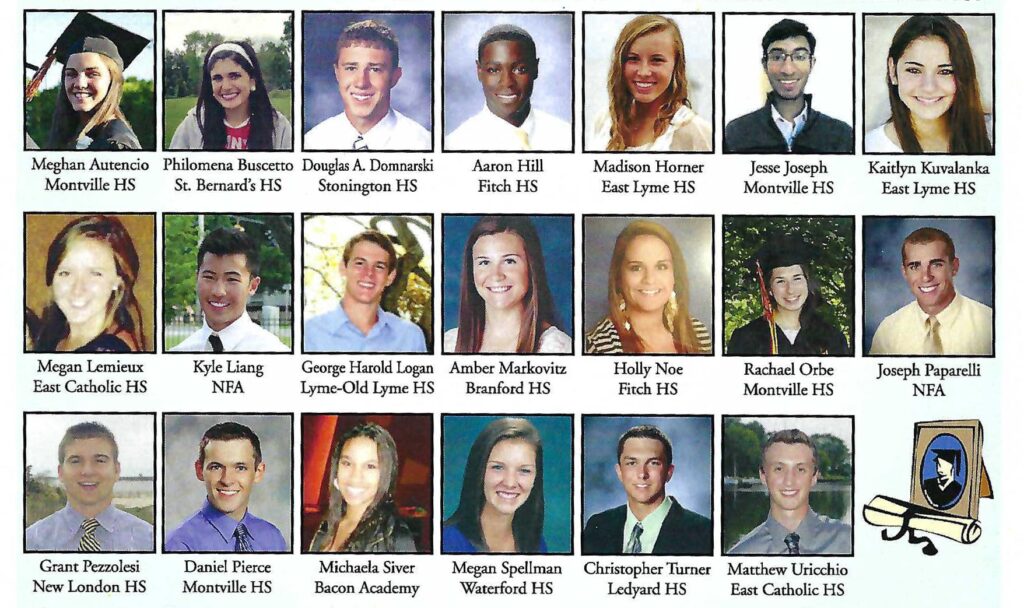 2012 CHRISTOPHER POTVIN
SCHOLARSHIP RECIPIENTS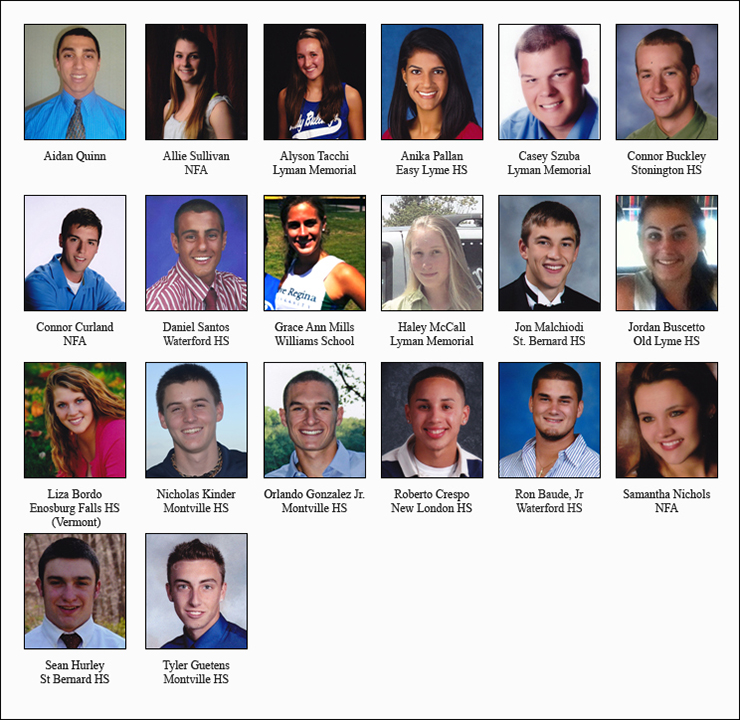 2011 CHRISTOPHER POTVIN
SCHOLARSHIP RECIPIENTS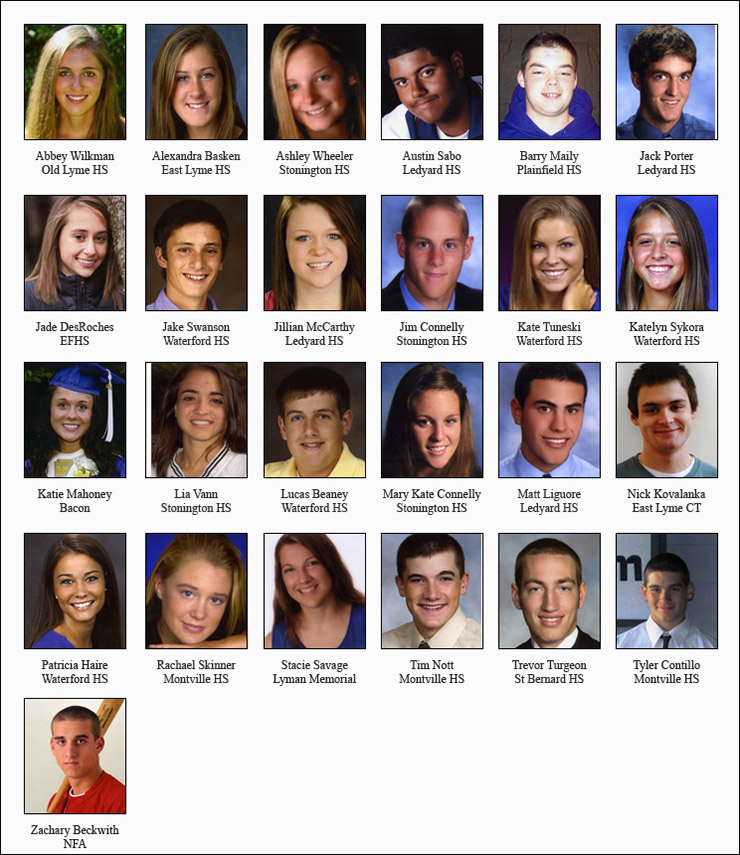 2010 CHRISTOPHER POTVIN
SCHOLARSHIP RECIPIENTS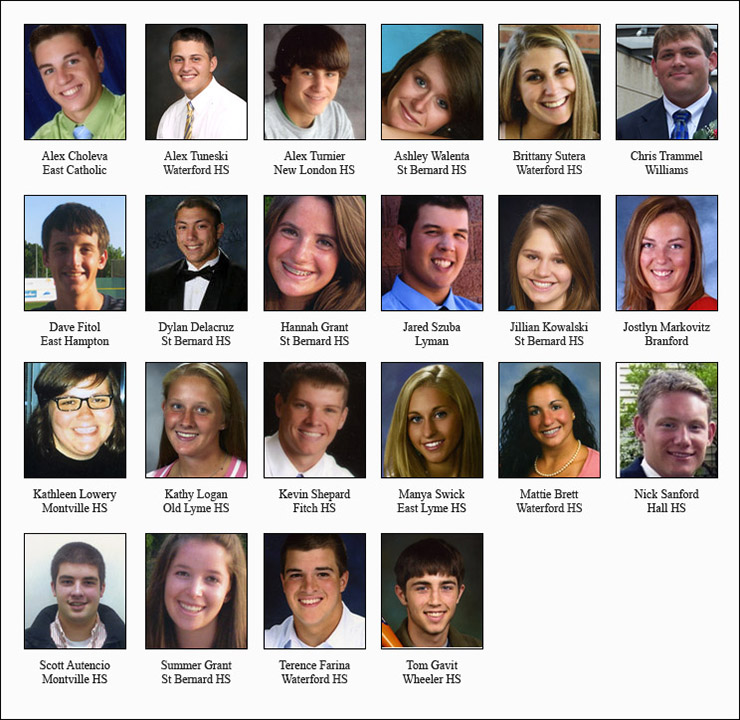 2009 CHRISTOPHER POTVIN
SCHOLARSHIP RECIPIENTS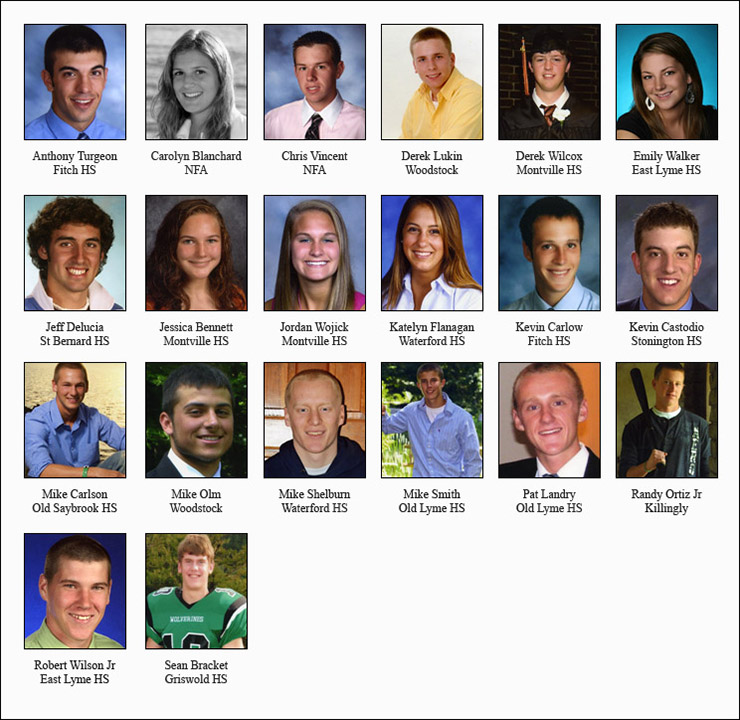 2008 CHRISTOPHER POTVIN
SCHOLARSHIP RECIPIENTS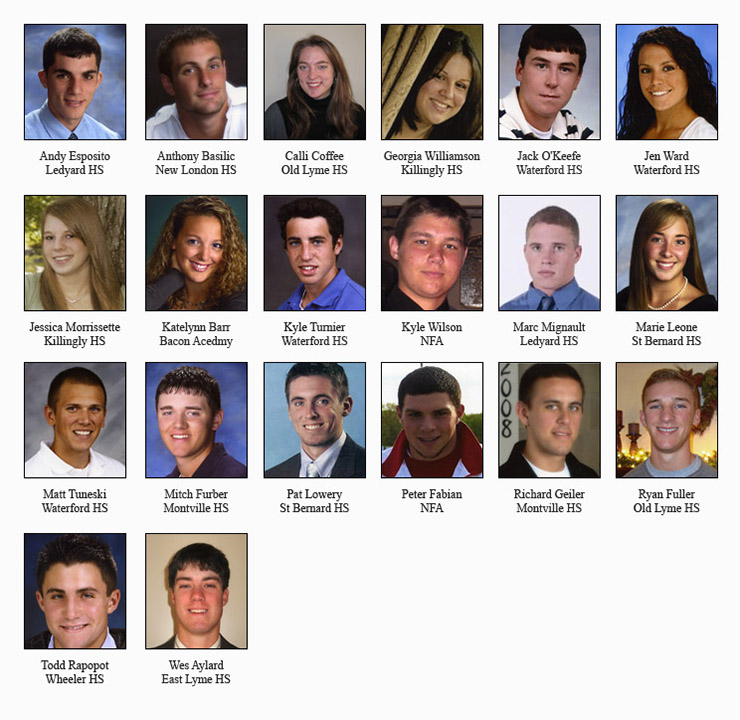 2007 CHRISTOPHER POTVIN
SCHOLARSHIP RECIPIENTS
2006 CHRISTOPHER POTVIN
SCHOLARSHIP RECIPIENTS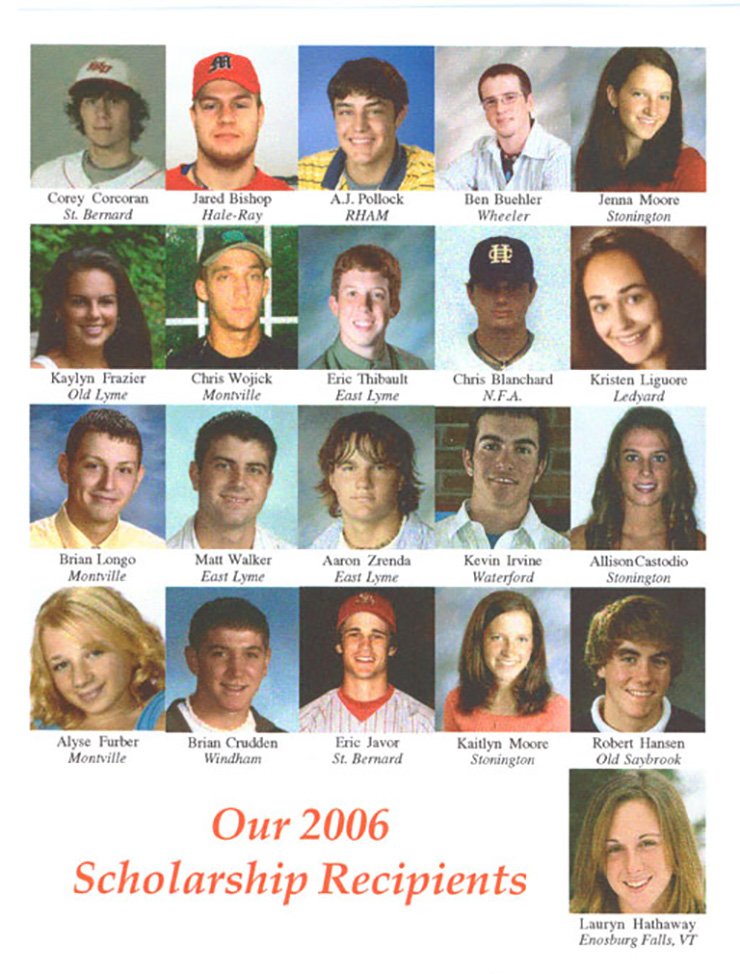 2005 CHRISTOPHER POTVIN
SCHOLARSHIP RECIPIENTS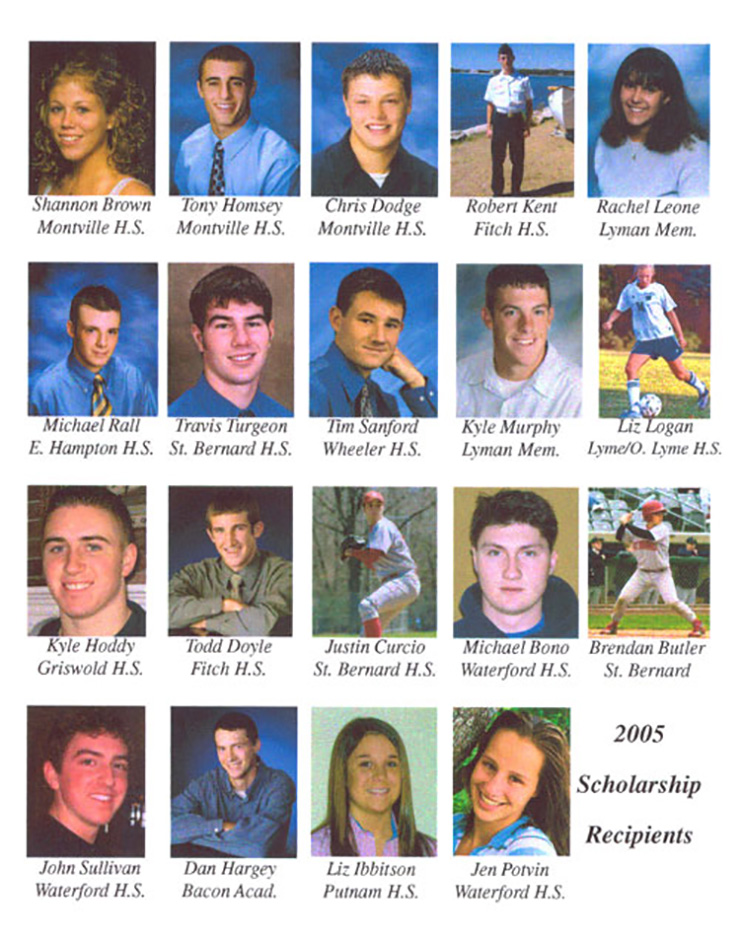 2004 CHRISTOPHER POTVIN
SCHOLARSHIP RECIPIENTS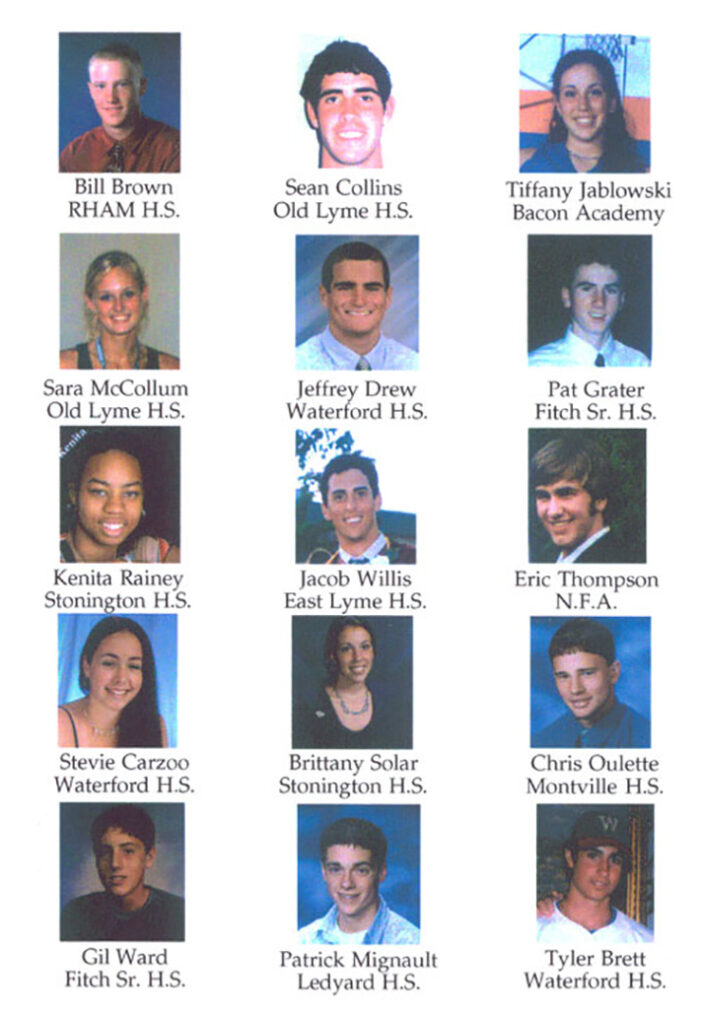 2003 CHRISTOPHER POTVIN
SCHOLARSHIP RECIPIENTS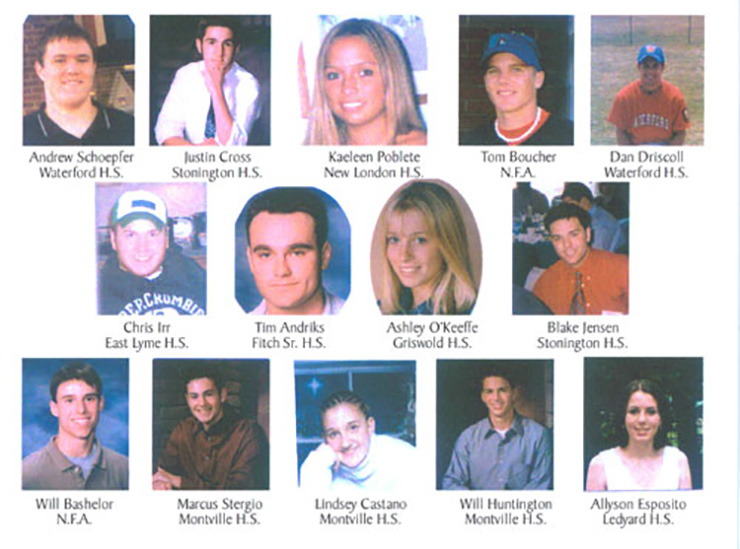 1995 CHRISTOPHER POTVIN
SCHOLARSHIP RECIPIENTS
DAMIEN D'ANGELO – New London HS
TAMMY IVES – Ledyard HS
JESSICA KAWE – Waterford HS
SARAH RAUCH – East Lyme HS
KEVIN ZRENDA – East Lyme HS
1994 CHRISTOPHER POTVIN
SCHOLARSHIP RECIPIENTS
MICHAEL ARCARESE – East Lyme HS
KYNDRA BRADLEY – The Williams School
STEVEN DANIEWICZ – Montville HS
MICHAEL LAW – Stonington HS
CHRISTINE PERKINS – Waterford HS
1993 CHRISTOPHER POTVIN
SCHOLARSHIP RECIPIENTS
SUE CUSHMAN – East Lyme HS
EDWARD HALLISSEY – New London HS
LINCOLN SCULLY POWER – Robert R. Fitch HS
MELLISA WILLIAMSON – Ledyard HS
1992 CHRISTOPHER POTVIN
SCHOLARSHIP RECIPIENTS
KELLY BARTLETT – Waterford HS
CHRIS BROWN – Stonington HS
ROBERT MILLER – Norwich Free Academy
MEGAN TAYLOR – Robert E. Fitch HS
1991 CHRISTOPHER POTVIN
SCHOLARSHIP RECIPIENTS
MARK BENVENUTI – Waterford HS
JENNIFER BODDE – New London HS
BILL BUSCETTO – St. Bernard HS
SAM ITURRINO – New London HS
MEL LUZZI – St. Bernard HS
MARK MATSON – Norwich Free Academy
AMY TOTH – Ledyard HS
LIZ WALKER – East Lyme HS
1990 CHRISTOPHER POTVIN
SCHOLARSHIP RECIPIENTS
ALISON ANDREWS – Stonington HS
MICHELLE CLAFFEY – Ledyard HS
MICHAEL CONNOLLY – St. Bernard HS
JEREMY FREITAS – Fitch HS
KATHERINE KUVALANKA – St. Bernard HS
JENNIFER MacCRACKEN – Montville HS
BRENDA O'CONNELL – Robert E. Fitch HS
HOLLY STRUTT – New London HS
1989 CHRISTOPHER POTVIN
SCHOLARSHIP RECIPIENTS
PETER AMANN – East Lyme HS
JENNIFER HARDING – Ledyard HS
DAVID LUTY – St. Bernard HS
CASEY O'NEILL – New London HS
DEIRDRE PASSARELLO – Norwich Free Academy
CHRIS PODESZWA – Waterford HS
JASON RANDOLPH – Montville HS
KATHY SULLIVAN – Waterford HS
1988 CHRISTOPHER POTVIN
SCHOLARSHIP RECIPIENTS
DAWN ALBERT – Montville HS
TAMARA FULLMER – Waterford HS
JOEL HALLIWELL – Robert E. Fitch HS
CRAIG McDONALD – St. Bernard HS
ROBERT NENNA – New London HS
CHRIS YEOMANS – Ledyard HS